"Hello, my name is Ahmad Nizam and I have been wheelchair bound since birth. I was born as a premature child along with my twin brother who unfortunately did not survive.
As a child, I went to the school for the differently abled to get the necessary vocational training. I speak fluent English, I can read and understand things well. But sadly, an education is not enough to survive these days.
So, I moved from Perak to Kuala Lumpur in search of work. I applied for several jobs but was rejected every time.
Some employers even told me that hiring me means added expenses for them, to organise for a special desk or make a wider door to accommodate my wheelchair yet others doubted upon my capabilities.
Frustrated of being rejected so many times, I joined my friend at his shop in KL Sentral where I currently work, non-stop, everyday. Together we sell crackers, cola and energy drinks and water for commuters who want to take a quick break.
I now live on my own in Kajang. Every morning I travel by myself from my house to the bus station with my electric wheelchair.
From the bus station I take the train to Kajang MRT station and from there the MRT to reach my work place.
Once at work, I involve myself with the routine tasks of the job, trying not to focus on the problems I face. Work is the only way for us to survive and provide for our needs, otherwise we are just an ignored section of society.
That being said, I'm very grateful for the job I have today and for being born in a country like Malaysia.
You see, not everyone likes the 'differently abled' and not everyone hates us. But here, I have only found kindness.
People from all backgrounds and races (Malay, Indian and Chinese) have been nothing short of helpful, always assisting me at the staircase, to get to the bus or even purchasing our products.
A big show of gratitude to Allah for surrounding me with people who are kind.
If I'm successful I want to help my disabled friends to improve their life and bring about a change in our circumstances.
Like everyone else, I would also like to give money to my family and support them. I want to show them I'm no less than 'normal people.'
– Humans of Kuala Lumpur
_________________________________
This story was taken on a Humans of Kuala Lumpur Photohunt at KL Sentral Station. Ahmad Nizam runs a small stall there just across from the main information booth (next to MyNews). The next time you pass by KL Sentral, do stop by to tell him a hello and support his enterprise by making a simple purchase. We are sure we all need water
Photostory by Nafisa Dahodwala and Steven Soh
Edited by Mushamir Mustafa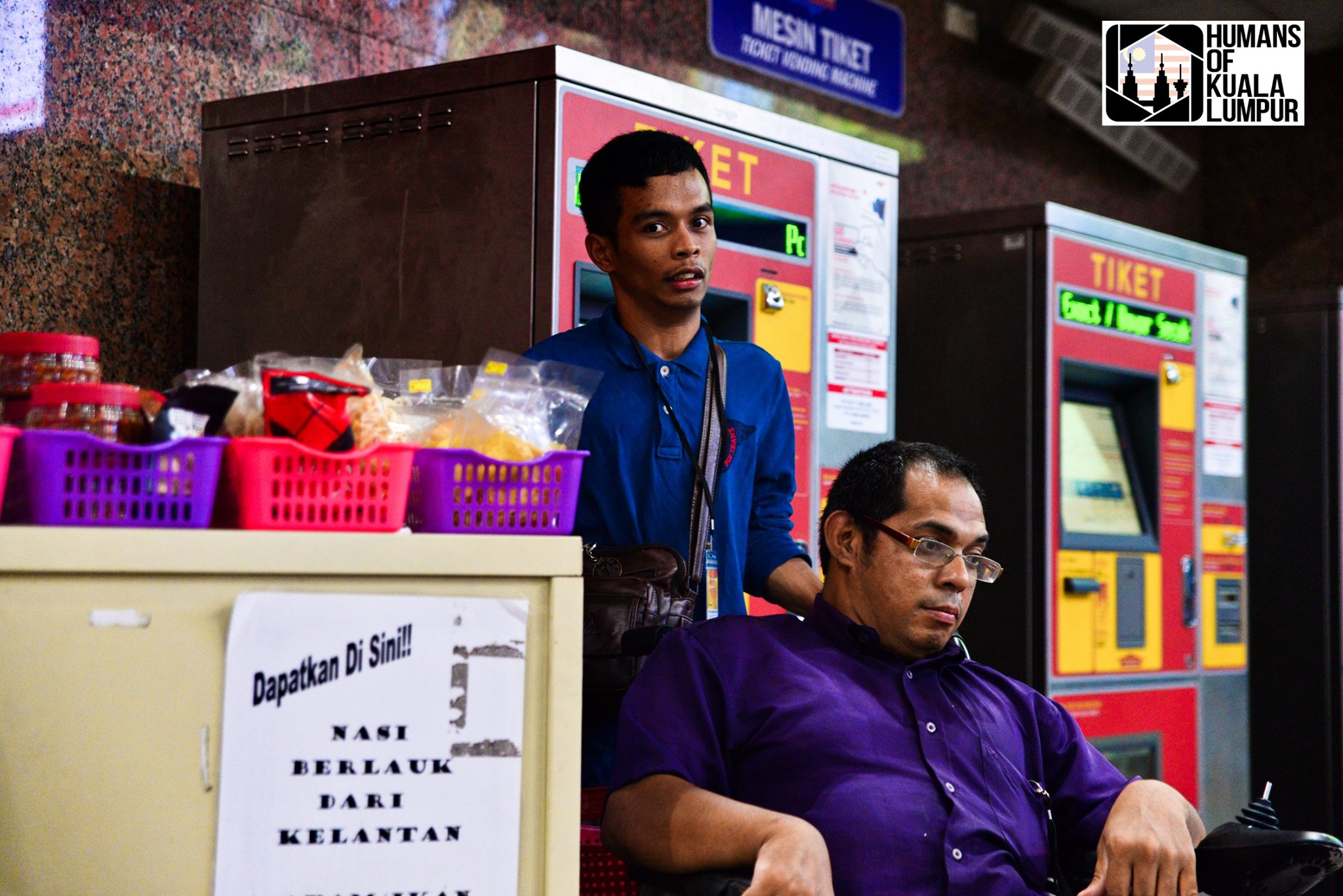 (This post was first published on May 17th 2019)